SOS is excited to welcome Jackie Ratkos to the team as Food Pantry Coordinator. You may already know Jackie, as she was formerly the Food Pantry Assistant.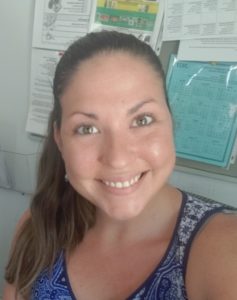 Jackie grew up in Plymouth with two older brothers. Her previous work history was in the medical field. She worked as a waitress and medical receptionist throughout high school and college before getting her BSN degree from Oakland University.
After college, Jackie worked at St. Joseph Mercy Hospital of Ann Arbor in the cardiothoracic progressive care unit.
"I worked in the Covid units at the beginning of the pandemic until deciding to take a break, which is when I found SOS. I have volunteered at various organizations since childhood and have always held a passion for service work," Jackie explained.
She started volunteering in the food pantry at SOS before being hired as the Food Pantry Assistant, working under our previous Coordinator, Tracey Anderson.
"Bringing hope and help to individuals and families during tough times is a privilege, which is why I'm so grateful to be working at an organization that makes such a big difference in the community," Jackie said. "Many people in our county are food insecure and struggling. I look forward to working with our volunteers and consumers to alleviate some of the daily anxieties that so many families are feeling."
Jackie loves music and enjoys going to see live shows, especially at the small venues in Ann Arbor and Ypsilanti that feature local bands. She likes to travel, do yoga, and try different cuisines. "Spending time laughing with family and friends energizes me, especially during the pandemic."
You can reach Jackie at the food pantry line at 734-484-9945 or by emailing jacqueliner@soscs.org. Her office is at the Resource Center, which is at 114 N. River St, Ypsilanti, MI 48198.