The SOS Food Pantry offers free, healthy food to people who need it.
This program makes sure that people do not have to choose between keeping their family housed or fed.
* WINTER PANTRY/ COVID SERVICE UPDATE *
Effective Wednesday, January 20, 2021
The form to schedule an appointment opens on Monday at 5 PM and closes Tuesdays at Noon. You can schedule your appointment online starting at 5 PM on Mondays until Noon on Tuesdays. Appointments slots are available during Tuesday afternoons and Wednesday mornings.
This link is updated weekly based on our food delivery.
Food Pantry Appointment Sign Up
You can also call 734-484-9945 between Monday at 5 PM and Tuesdays at Noon if you need help scheduling an appointment. Leave a voicemail if there is no answer/ calling after-hours. A staff person or volunteer will return your call during business hours.
To cut down on wait times as it gets colder, SOS highly encourages people schedule an appointment. Your order will be prepared ahead of time based on your responses to this form. Please do not show up early.
People without an appointment will receive all prebagged groceries.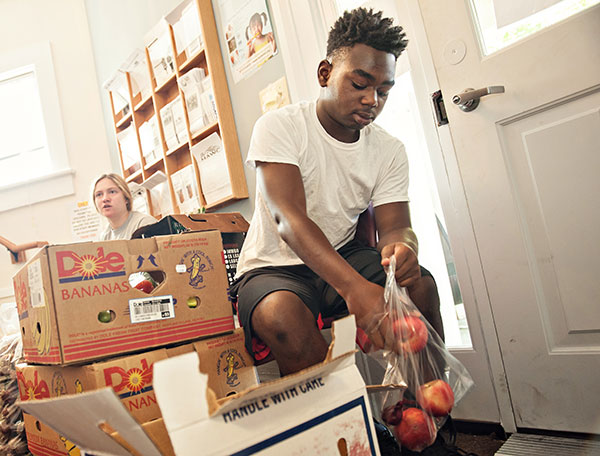 Visitors should wear masks and maintain at least 6 feet distance between other visitors.
Food Pantry hours remain Tuesday 1:00 pm- 6:30 pm & Wednesday 9:00 am- 1:00 pm.
Frequently Asked Questions
Where is the food pantry located?
The food pantry is located at the SOS Resource Center at 114 North River in Ypsilanti, MI 48198
When is the food pantry open?
Tuesdays 1:00 pm – 6:30 pm, Wednesdays 9:00 am – 1:00 pm.
How often can I visit the food pantry?
Each family can visit once per week.
Can I pick up food for my friend or neighbor?
Yes. Families can pick up for another family, but you will need to give head of household's full name, address, and birth date.
Do I have to be a Washtenaw County resident to visit?
No.
Where does the food pantry get its items?
The SOS food pantry offers rescued food from Food Gatherers as well as donations from the community. The food pantry, personal care items and baby supplies are supported by in-kind and monetary donations from local businesses, churches and schools throughout the year. Donate to the food pantry.