The SOS Food Pantry offers free, healthy food to people who need it.
This program makes sure that people do not have to choose between keeping their families housed or fed.
Save Time by Placing a Pickup Order
The form to place a pickup order and schedule a pickup time opens on Mondays at 5 PM and closes Tuesdays at Noon.  Appointment slots are available on Tuesday afternoons and Wednesday mornings.
This link is updated weekly based on our food delivery.
Food Pantry Appointment Sign Up
You can also call 734-484-9945 on Tuesdays from 9 AM to Noon if you need help placing a pickup order or scheduling a pick up time.  If you need assistance picking up your order, please call the above.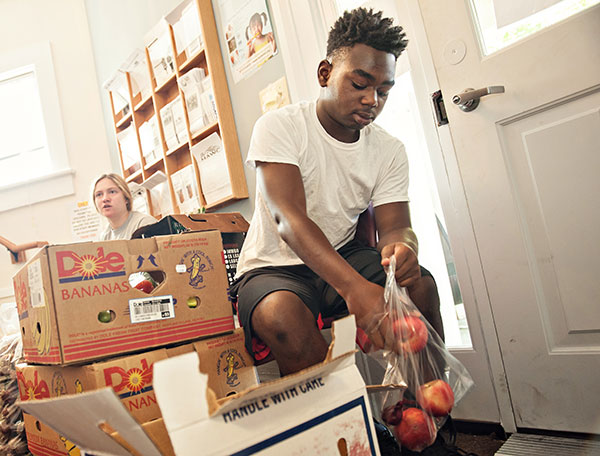 In Person "Shopping"
The Food Pantry is open on Tuesdays from 1pm to 6:30pm and Wednesdays from 9am to 1pm.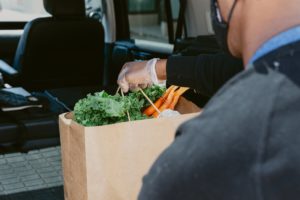 We have volunteers to help guide you through the pantry and let you know the quantities that are available for each item.  Please note, there is often a line for the pantry, the majority of the line is not sheltered (please dress appropriately for waiting outdoors).
Emergency Food Bags
Emergency food bags are pre-packaged and available for pick up at our Resource Center during the following times:
Monday 9 AM – 1 PM
Thursday 9 AM – 5 PM
Friday 9 AM – 5 PM
Frequently Asked Questions
Where is the food pantry located?
The food pantry is located at the SOS Resource Center at 114 North River in Ypsilanti, MI 48198
When is the food pantry open?
Tuesdays 1:00 pm – 6:30 pm, Wednesdays 9:00 am – 1:00 pm.
How often can I visit the food pantry?
Each family can visit once per week.
Can I pick up food for my friend or neighbor?
Yes. Families can pick up for another family, but you will need to give head of household's full name, address, and birth date. To help keep things running smoothly, there is a limit of pick up for 2 additional families.  
Do I have to be a Washtenaw County resident to visit?
No.
Where does the food pantry get its items?
The SOS food pantry offers rescued food from Food Gatherers as well as donations from the community. The food pantry, personal care items and baby supplies are supported by in-kind and monetary donations from local individuals, businesses, churches and schools throughout the year. Donate to the food pantry.