The SOS Food Pantry offers free, healthy food to people who need it.
This program makes sure that people do not have to choose between keeping their family housed or fed.
* Covid Update *

In order to maintain social distancing and the safety of staff, volunteers, and visitors, the food pantry is currently distributing pre-bagged groceries outside of the food pantry every Tuesday 1:00 pm- 6:30 pm and Wednesday 9:00 am- 1:00 pm.
Visitors can choose from that day's selection of produce, meat and dairy.  No appointment needed!  Visitors should wear masks and maintain at least 6 feet distance between other visitors, noted by the marks on the sidewalk.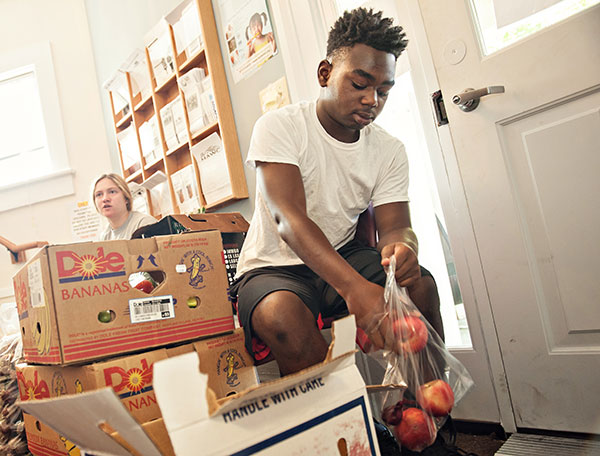 Frequently Asked Questions
Where is the food pantry located?
The food pantry is located at the SOS Resource Center at 114 North River in Ypsilanti, MI 48198
When is the food pantry open?
Tuesdays 1:00 pm – 6:30 pm, Wednesdays 9:00 am – 1:00 pm.
How often can I visit the food pantry?
Each family can visit once per week.
Can I pick up food for my friend or neighbor?
Yes. Families can pick up for another family, but you will need to give head of household's full name, address, and birth date.
Do I have to be a Washtenaw County resident to visit?
No.
Where does the food pantry get its items?
The SOS food pantry offers rescued food from Food Gatherers as well as donations from the community. The food pantry, personal care items and baby supplies are supported by in-kind and monetary donations from local businesses, churches and schools throughout the year. Donate to the food pantry.