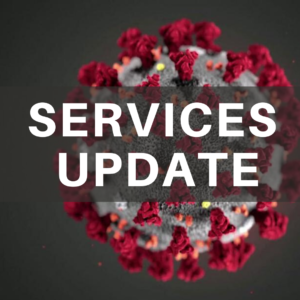 SOS is modifying its services to honor the State of Michigan's 'shelter in place' order and to protect the health of our clients, volunteers and staff members.
If you need food, please visit SOS's pantry on Tuesdays between 1 PM & 6:30 PM or Wednesdays between 9 AM and 1 PM. You will receive pre-bagged groceries at the door. No appointment necessary.
If you are homeless, call Housing Access at 734-961-1999.
Utility shut offs and evictions have been halted due to the pandemic. Also, the 2019 tax filing deadline has been extended to July 15, 2020. If you need help with these matters, please contact SOS after the pandemic quarantine has ended.
For mental health needs, call Washtenaw County at 734-544-3050.
If you need transportation assistance, please note TheRide bus service in Ann Arbor and Ypsilanti is free because of the pandemic.
SOS has placed portable toilets at both SOS buildings in downtown Ypsilanti – 114 N. River St and 101 S. Huron St. The portable toilets have sinks, soap, and hand sanitizer and will be available throughout the time period covered by the shelter in place order from the State of Michigan.
SOS will not be accepting in-kind/ drop-off donations during this time, except for critical needs items of toilet paper and hand sanitizer.
If you need other help, please contact us at info@soscs.org or call 734-485-8730 and leave your name and number. SOS will respond to messages at least weekly.
Additional Resources
Washtenaw County is regularly updating this page of essential services and resources.
Bridge Magazine is also updating this page, which includes resources statewide and by region.