SOS's Parents as Teachers (PAT) program is expecting 12 new babies in 2021! We are holding a baby shower in early August for the expecting families.
If you would like to help welcome the new babies, you can donate some of the essentials they will need. We made this Amazon Wish List, but please feel free to select items from other retailers if you desire. A list of all needed items is below.
Please mail or drop off the new baby items by Thursday, July 29th at 101 S. Huron St. Ypsilanti, MI 48197.
About the Parents as Teachers (PAT) Program: PAT offers home visits and group support meetings for parents who are pregnant or have a child under the age of six. Certified Parent Educators teach skills and activities that promote healthy development and growth for young children. Parents in PAT face struggles like single parenting, housing insecurity, low income, teen pregnancy, history of domestic violence, and disability. For many parents, PAT provides a sense of community, belonging, and a support system. In group meetings, parents can share their struggles and successes with others who are going through similar situations. Last year, 55 families with 78 young children participated in the program.
Wish List: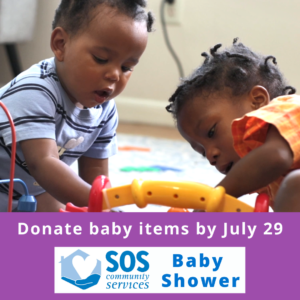 baby lotion/ cream/ powder
baby shampoo
baby detergent
diapers & wipes
post-partum pads
nursing pads
washcloths
burp cloths
baby cribs/mattress
stroller
pack n play
bouncer/ swings
high chairs
car seats
baby gate
bottles
diaper bag
pacifiers
baby nail clippers
nose suction
crib sheets & blankets
bibs
toys/ teething rings/ books
clothes (socks, onesies, sleepers)